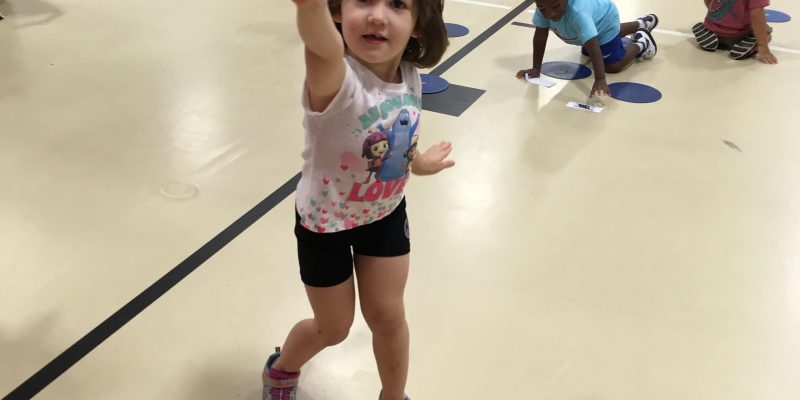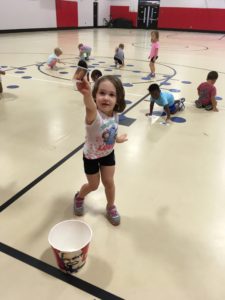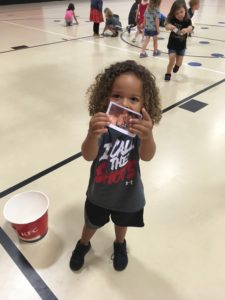 This game is one of my favorites because of all the lessons that come with the game. You can play it anytime of the year and incorporate different types of pictures for the season (Fall, Winter, Spring, Summer) or unit of study at that time (Animals, States, Planets, etc.).
What you will need:
5 sets of 10 pictures (depending on the size of the class) of pictures cut and laminated.
Vinyl dots
Music (I like to use music that will go along with the theme of the pictures)
5 buckets to collect the pictures.
Pre-game Prep:
Put all pictures on the gym floor in a designated area (smaller area for the younger and larger area for the older).
Cover the pictures with the vinyl dots. Place the 5 buckets on a line.
How to play:
Divide the class into teams. For the younger classes I will place a picture in their bucket to remind them of what they are trying to find.
Each team stands behind their bucket.
Once music starts the game begins. The first one in line runs out and uncovers a dot. If they uncover their picture they bring it back and put it in their bucket and get in the back of their team's line. If they uncover a dot with nothing under it they can uncover another dot. If they uncover another team's picture they cover it back up and go to the back of their line. Game continues until one team finds all of their pictures and places them in their bucket.
My variations:
For my young 3's and 4's I allow all students to go out and look for their pictures. For my young 4's and 5's I establish waiting in line and taking turns.
Lessons learned in this game:
"Patience" Each team has to wait their turn.
"Teamwork" The students understand that they are a part of a team. With the youngest students you will see the children helping their teammates. They will remind them what they are supposed to be looking for and checking their buckets to make sure they only have their picture inside.
"Integrity" Students have to be honest and only uncover one dot. It is a great opportunity for a lesson on honesty and doing the right thing even when you think others are not watching.
"Sportsmanship" Students waiting in line cheer on their teammates and when one team finds all their pictures they sit. Each team continues to play until all pictures are found. During this time all teams are cheering on the ones still playing.
This is such a simple game but one that the students love. This games works gross motor skills, cognitive skills, speed and agility.
Have Fun!
Miss Kim in the Gym