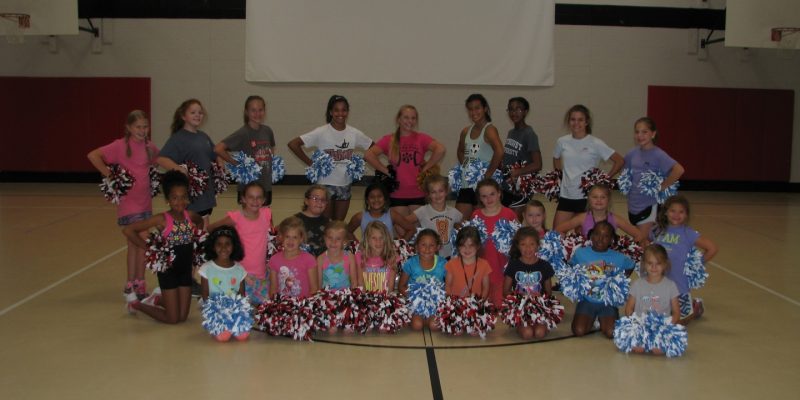 Our morning started off with excitement as the dancers arrived seeing our massive obstacle course set up with mats! Today was Acro/Pom day! We went over basic skills such as forward rolls, backward rolls, cartwheels, round offs, and back bends. The music started playing and it was time for the obstacle course. The course including hopscotch with 30 hoola hoops, crab walk, forward rolls or cartwheels, balance walk, scooters, and ending with agility training with the rings of fire. We then learned an acro routine from Bailey and Jordan. Snack time was next and the dancers took a much needed break. During snack time Caroline's big sister told me to look over and when I did I saw the sweetest image….a little girl taking a well-earned nap! I did not have the heart to wake her up so three big sisters stayed inside with her while I took the others outside to play.
Lunch was next followed by a game of "Miss Kim's Land". We were so fortunate to have Hannah Higgins, a former dance team member of mine visit us for the afternoon. She led jumps and motivated all the girls to really push themselves. Hannah then taught us a pom routine that was so much fun. The dancers had to earn their poms and they were so excited to finally get them.
The day ended with Hungry Hungry Hippo….not the board game but with humans! It was so much fun watching the girls laugh together as they gathered balls. We then played Captains Coming and Hannah gave us some new commands. Tomorrow is our last day and I cannot believe it. The dancers have learned so much, made new friends, and worked so hard. They will perform 6 dances for parents at 2:30 in the gym. I cannot wait to see their smiles, feel their excitement as they share their love of dance with their biggest fans.
Miss Kim