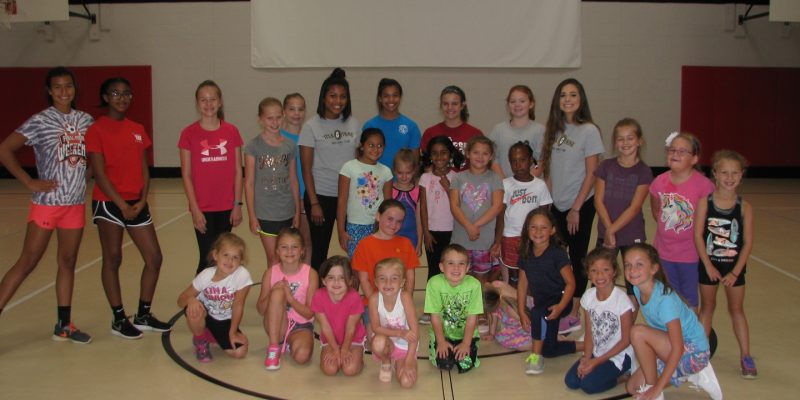 Today was Day 1 at my dance camp at The Burlington School. Nineteen eager dancers ages 5-9 came in with bright eyes and wide smiles. Seven awesome 5th-8th graders came to give their time this week as "big sisters" for the dancers. I cannot thank these young ladies enough since they make camp so much fun for the dancers.
We started our morning out with introductions and forming our little camp families. Next we had a great warm up complete with sit ups and push-ups! Dancers are athletes you know! We went across the floor using our flexibility and strength with leaps. I was quite impressed with our great jumpers. We then learned our first dance for the next 45 minutes. I started to see some hungry faces and tired legs but we could not stop yet since we had special visitors arriving.
Essence and Katherine, captains of the UNC-G dance team came into the gym and ran through the spirit tunnel we made for them. They both talked about their journey to becoming captain on a college dance team. They also explained that they are both dance majors and just how dedicated they have to be. They taught two sideline dances and a Spartan cheer. Thank you so much ladies for giving your time today, you were wonderful!
We ate lunch outside in the shade together and I loved hearing all the conversations. A break out game of volleyball happened with some of our dancers on the field while some stayed on the deck with me. After playing on the playground for a short time we went in to continue our day. We played sharks and lifeguards and cat and mouse with the parachute. A rocket launch happened and we landed on the moon. Logan was our captain and made sure to protect us all against aliens.
Our day ended with working on our kicks, the color game, and an intense game of captains coming. All the dancers were exhausted and I took note of that…tomorrow I need to bring it down a level! My legs will feel the pain in the morning trying to keep up with these young dancers but my heart is ready to see them do what they enjoy the most.
See you in the morning! Get ready for another exciting day!
Love,
Miss Kim