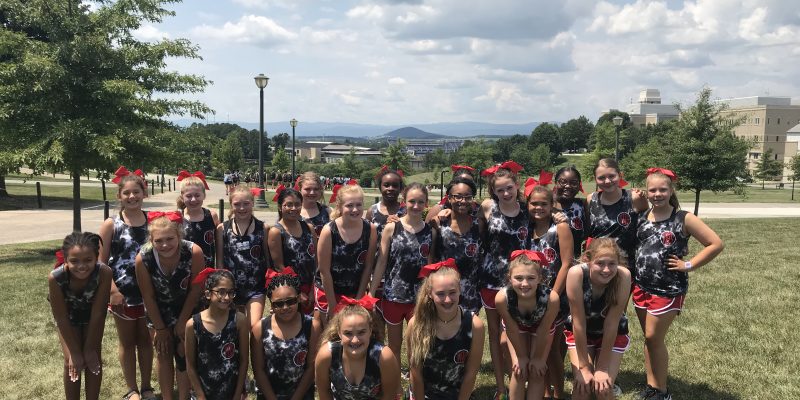 TBS Dance at UDA Dance Camp 2019 Day 2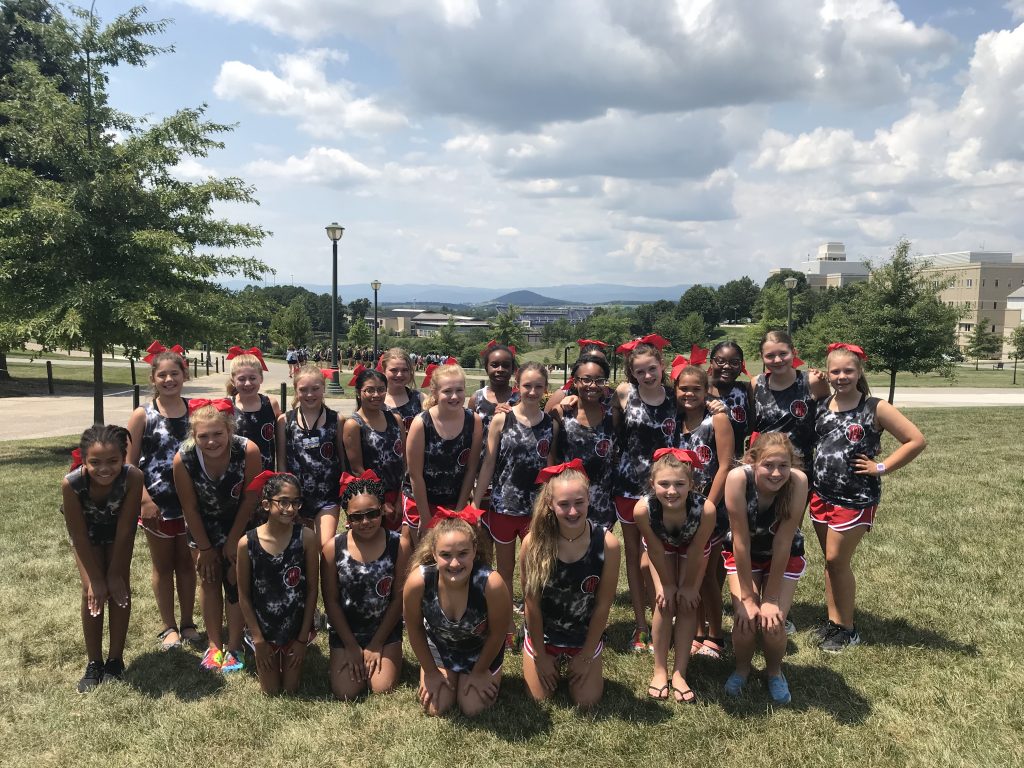 6:15am: Knock Knock Knock, Good Morning Girls! Time to wake up!
Day 2 started out with good morning hugs and songs. Some of the girls needed a little more encouragement to put their feet on the floor. I got to see who was a morning person and definitely who is not! All the girls got ready and met in the hall at 6:55 for breakfast. We arrived at the dining hall at 7:05 and the girls understood why I said we need to be first… they had to wait in a long line for the "hot items"… I bet they will be on time tomorrow! Plates were full with all kinds of yummy breakfast treats.
I took the dancers trying out for All American straight to the gym at 7:45 while the others went back to the dorm with Miss Megan. Abi, Kalyn, Liza, Elizabeth, and Ria are trying out for the JV All American while Amada is trying out for Varsity All American. They have to learn an additional dance and choreograph 2 counts of 8 all on their own. They were tryout tomorrow at 1:15 so please think Happy Thoughts for these young ladies.
All the dancers gathered together for their warmup at 8:30 and Day 2 officially began. I love that they are doing stations with lots of cardio and strength for warmup. This made it clear to me some things we need to work on during class at TBS. Megan and I attended our coaches meeting along with a coaches class. I am very fortunate to have Megan with me as she adds so much value to this program. I see big things and opportunities for our dancers at TBS with her by my side. I remember her as an 8th grader and what a natural leader she was at such a young age. We are lucky to have her.
After warmup the girls learned their A routines. It was so much fun watching the girls split up into groups and pick up choreography so quickly. The looks on their faces told me they were having fun while working hard. After A we dismissed for lunch. On the way to lunch Maygan caught up to me and said "Miss Kim, I love camp" and I said to her (trying not to cry) "me too Maygan". Ahhhh… they are tired, exhausted, sleep deprived yet they are loving it. I told them before we came that this would be the hardest they have every worked but the most fun they will every have and it is coming true. After Maygan said that she and Hannah ran up the hill while Miss Megan and I sang the Rocky tune. It was an awesome moment. The conversations on the way to the dining hall are always my favorite. Lunch was pretty quick but we had about 15 minutes back at our dorm before we had to head back to the gym. I told the girls to EAT AND PUT UP YOUR FEET. They love to line their chairs up in the hall and give eachother shoulder massages. Definitely a middle school memory they will store in their brain.
We headed to the gym and started our Drills to Skills stations. The girls loved this! They worked on lifts and kicks! Look at the pictures and see how great they looked! Next was squad goals class where they were divided into what I felt they needed. They went to Pyramid to Success (girls that have leadership potential but need to work on select skills to BE the leader), Public Speaking (understanding why communication skills are so important and how to be a great speaker…looking people in the eye, speaking clearly while projecting your voice, and confidence), and Game Day (implementing side line routines for basketball games, pep rallies, and more).
Time for Dinner! We headed to dinner and filled our bellies. The girls were starting to fade a little and as a coach this is the time I have to go to each table and have a pep talk. Keep up the energy, we only have this day… we will not have another "day 2" until next year, look how much you have learned, etc. etc. We got this! We headed back to our dorm for a 15 minute break… just long enough to use the restroom and clean up our hair. We headed back to the gym for B routine. The girls picked where they wanted to go. If they felt like they were overwhelmed they chose a level down but if they wanted to challenge themselves I told them to go up a level. Ria and Brooklyn did just that both choosing level ¾ Hip Hop/Pom. Inside I knew they could do it but I feared they would be disappointed if they could not get it. I was not about to tell them no. They both handled it like champs being the only TBS Dancer in their groups. The other dancers did incredible and I was proud of each and everyone's choices in routines. They know their strengths, limits, and when to back away or try something harder. That is a coping skill that is very much needed in life. Next we had a beautiful cool down. Miss Megan and I even joined in. We ended our time in the gym with a team building activity. I have to admit I was disappointed in their effort…yes I know they were tired but their weakness was revealed to me. WE HAVE TO WORK ON OUR CORE STRENGTH! The girls were in a circle and had to hold a plank while one girl would go around jumping over their legs. I was surprised just how many girls could not hold a plank for even 10 seconds. This is something I talk about in class and even see with my younger students. I wonder if holding phones (or playing/reading on devices slumped over) has a role in this weakening of youth's core strength? I told them that we will be working on our core strength but that I would also like them to work on this at home. Sit up straight when sitting and start holding planks with flat backs for 30 seconds-1 min in the morning and at night working your way up to 2 minutes. I told them we would have a contest on Day 3 with myself and Miss Megan.
We headed back to the dorm for practice time. We worked on our performance routine while also working on A & B routines.
After practice we had our team meeting to talk about our day and what to expect tomorrow. We had lots of sprinkle awards! Let them explain what each award means… lots of thought goes into it and it is explained before the reveal.
Princess Award: Angelina Mary Chandler Sidney
Flying High: Kalyn Ria Mia
Going Bananas: Isabella
Sass: Carmen
Solid: Patterson Victoria
First in Line: Caroline
Sugar (holds team together): Lainey Amada Carissa
Effort: Savannah Ashleigh Elizabeth Hannah
Rocky: Hannah Maygan
J-Lo: Adrianna Kalyn Abi
Practice: Elizabeth Liza
Honesty: Mary Chandler
Showers we next and I think the last girl finally closed her door at 11:30. When I say we are working every minute we truly are. Again your girls are doing great. They are happy and having the time of their lives. If you did not hear from your dancer they are fine! Only around 2 calls were made and I bet none will be tomorrow… it is Crazy Night tomorrow night! I love your girls and being with them makes me love them even more. Seeing what makes them unique is so important so that I can pull out what I know is inside each and every one of them. They are flying high parents!
Love,
Miss Kim