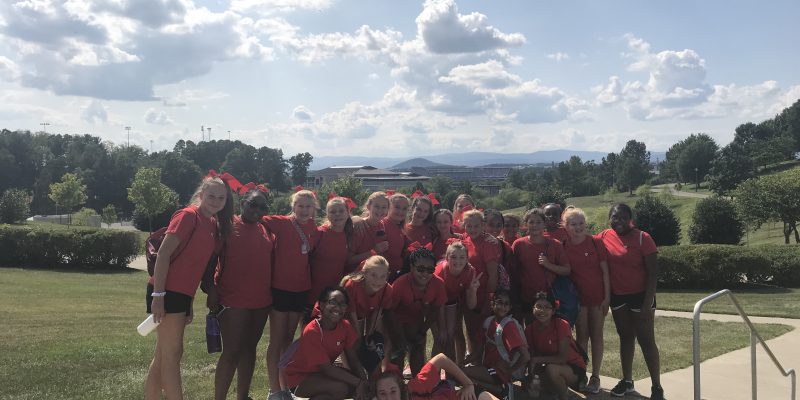 TBS Dance at UDA Dance Camp 2019 Day 1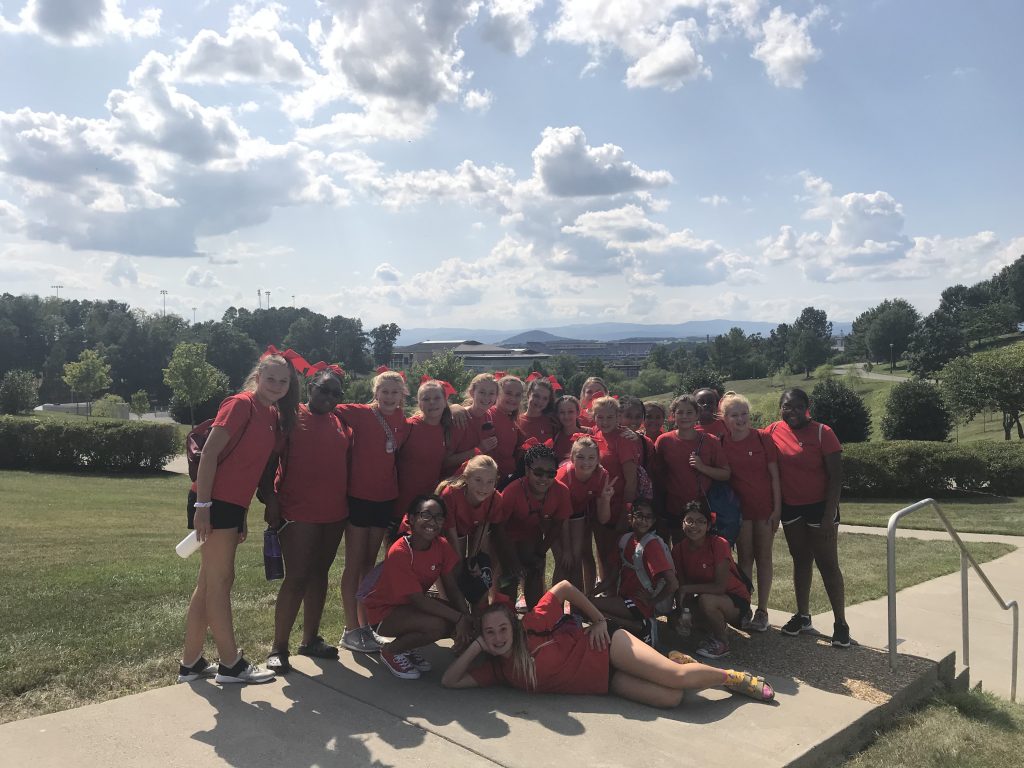 Day one started bright and early at the Burlington school. Dancers and parents gathered together for a fantastic sendoff. Mr. Wall was there with coffee in hand to show his support, which we really appreciated it. Thank you to Mr. Wall and Mr. Self for your talented packing skills and getting at least 10 sets of luggage in, which included bedding snacks and more. We left promptly at 6:30 out of TBS parking lot and headed for James Madison University. It took us 3 1/2 hours, and as we arrived we were greeted with beautiful weather and picturesque surroundings. The mountains are in the distance and we are up high on a hill. It is probably one of the prettiest places we've been at camp. Check in was quick and easy and before long all girls had keys in the hands and started making their beds! I saw mommies and daddies stand back and watch their girl embark on their camp experience. I couldn't help but think about how I felt when my sons went away for the first time. As a parent you want them to have such a good experience but also know that you'll miss them terribly. There is also a part of your heart that knows that they're growing up, but the feeling when you pick them up is the best ever knowing that they did it!
The noise level on our Hall indicated everything was great. I left with the eight Captains and headed to the gym and Megan stayed back with the other 15 girls to finish up lunch. Camp kick off was at 1 o'clock and Megan looked at me and we both put her fingers in her ears and said this is what we get to look forward to for four more days! The gym was erupting with spirit and our new girls quickly realized what we were talking about. They got right into the mix of things doing all the fun dances and even taking part of team building activities where they are pulled in the middle of the circle doing their own specialized dance.
After warm up they went and started working on their performance routine. Megan learned the dance right along with the girls while I watched faces. I watch to make sure girls are not struggling and all I saw were smiles. After they learned their performance routine they came over to me and said how much fun that was. The returners knew what was coming and tackled the choreography while the new girls followed their lead by working hard and asking questions when needed. I was grateful for their attitude after learning an entire dance in such a short time.
Next was something they had all been waiting for… The cafeteria! It is quite a long walk from the gym to the dining hall but it's absolutely beautiful. The weather is gorgeous with blue skies and beautiful mountains to look at while we're walking. Of course I have to take 1000 pictures and they all know the drill by now. Liza found our perfect designated area for our team to eat and the girls quickly figured out the ropes in the dining hall. Dinner was wonderful but the conversations were even better. I'll keep those special for our team, but let's just say these girls are quite amazing and quite funny.
We were able to go back to our room for about 10 minutes to brush our teeth, wash our hands, and freshen up. We headed back to the gym which meant another really long walk and had a great time watching the home routines from some of the other schools that are at UDA with us. I enjoy watching the other teams but I also love to glance over and see my dancers faces in awe of what they are watching. For some of them they've never seen anything like this before and for others it's the motivation they need, not just in dance, but in so many different areas as a student and person: confidence, hard work, and TEAMWORK. That is something that I want them to take away and keep with them: the meaning of teamwork. In middle school I think it's particularly hard for girls to grasp the concept of what teamwork actually means… we are working on it. Parents make sure you ask your dancer what teamwork means to them when you see them again.
After home routines we got to finally do drill downs. Last year I could count on one hand how many yellow Ribbons we are in the entire camp. Within the first three rounds we had eight ribbons. Our first two ribbons went to Maygan and Liza! I think they were both shaking at the end and when they got the Ribbon Liza jumped up and down while Maygan just stood there in disbelief. It was awesome! It is a very high pressure situation were concentration and regulation of emotions come into play. Hmmmm makes me think what they'll be when they grow up. Other girls followed them with yellow ribbons and I could not be more proud. I even tried it and got out immediately.
We headed back to the dorm and had our meeting. I presented each girl with their cupcake and explained how they could earn sprinkles. I gave out four awards and Miss Megan gave out one.
Step Up Award: Abi (speaking up when the UDA staff asked about a quote… Abi said "if you dream it you can achieve it"!
Big Girl Attitude: Mary Chandler (not being afraid and trying so hard in her performance routine)
Honesty: Hannah (drill downs)
Helpful: Savannah (helped me clean up someone's spilled water bottle without me even asking)
Miss Megan gave a sprinkle too!
Leadership: Liza (for always helping, answering questions, and stepping up when someone needed it).
I'm so excited about having one of my former dance team members Megan Butler on this trip. She is going to help in so many ways and the girls have fallen in love with her. She is learning the dances right along with the girls and helping them when needed. She's an extra set of eyes as well as another loving soul who is mentoring these girls in a way that definitely warms my heart.
After our meeting the girls practiced for 45 minutes nonstop with Megan on their performance routine. I was blown away how great they did in such a short time. The girls were dismissed and started to take showers. They all ended up in several different rooms which I think is so much fun. Only a couple asked to call their mom and honestly some of them would not of asked if they didn't hear the other girls ask. They are so busy having fun and enjoying their time. So parents please understand if you do not hear from your daughter she is having the time of her life!
Love,
Miss Kim