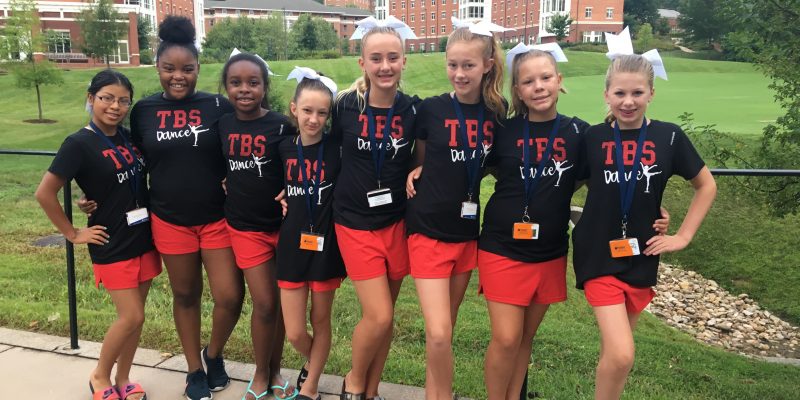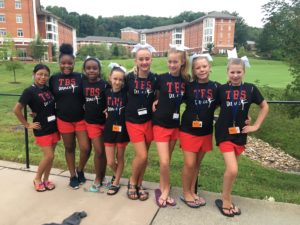 Day 3 TBS at UDA at UVA
Morning was easy once again with my dancers as they said good morning after my song… it could be that they just do not want to hear me sing. I got my sweet hug from Liza again which made my morning. The girls were right on time as we headed to the cafeteria. We arrived right as they opened at 7:00am.
We are settled into a routine although the dancers have to switch seats and who they sit beside every time. After breakfast and several photo opportunities we arrived ready for All American review. Then the dancers rehearsed A routine and B routine while I attended my coaches meeting. During my meetings something really cool happened. I was talking about our girls and said "Alamance County". One of the coaches came up to me after and we realized we went to Williams together but she graduated one year after me… small world! Then later one I met another coach that went to high school at Eastern Guildford and was a freshman when their school burned down. I enjoyed networking with my NC friends and hearing about their programs in Virginia and West Virginia.
Drill downs happened next and guess what???? We earned some yellow ribbons for lasting until the end of drill downs. That is one step closer to the final "Drill Down Queen" contest tomorrow! After drill downs the UDA staff put on "mock evaluations" so that the dancers would know what to expect. They were quite entertaining.
Lunch was next and we had lots of laughs. These are the things that we will remember during our upcoming school year. "Remember when we saw Naomi on the grass… was she waiting on someone… wait is that the Pope…, etc." I cannot explain what those comments mean, they are special to me and the dancers. It is those special moments that build the bonds that I knew would happen with all of us. I heard Patterson and Amada laugh out loud at one point at lunch because of something Tori was saying to me.
On our way back we have been checking our fit bits. Liza and Hannah both were over 10,000 at noon! There was no "15 min" break after lunch since we had evaluations. The dancers got performance ready with their outfits, hair, and makeup. Abigale has become our makeup expert and Victoria loves to help Patterson with her hair. We had several photo opportunities on our way back to the gym. My favorite picture was when the girls stood on the rocks. The campus is surrounded by beautiful scenery including mountains and a wide range of trees.
Once we arrived at the gym the girls went right to All American. Our dancers worked so hard practicing the dance and felt ready. I need to set the stage as clearly as possible. Remember, these dancers are rising 6th-8th graders… the rest of the girls are 9th-12th graders. The gym in filled with 12 teams consisting of around 200 dancers. There are 5 UDA staff members and 1 lead staff member along with 2 assistants. They call out everyone that is auditioning and they run across the floor. They line up and guess who goes first? Our dancers, 3 at a time. They call out their names Victoria, Liza, and Hannah. Then Abigale, Elizabeth, and Patterson. The girls all did well with a few hiccups in choreography. At the end they are supposed to do 2 counts of 8 that they make up. I told them if they cannot remember to just freestyle. I will never ever forget seeing Hannah do just that. She forgot what I told her to do and started doing jumping jacks and karate punches and ended with a pose. The crowd went wild clapping for her. Now that is a lesson in life….when you mess up just keep going no matter what. Hannah you are so far beyond your years. We have laughed until we cried about that and it was just the moment we needed after everyone did not perform at their best. I told them that they just did something that I could have never down when I was their age. No matter what happens I was so incredibly proud of them.
Next it was time for their performance routine evaluation. I have to tell you I was shaking as they lined up. The Mom in me was so scared but the coach in me was screaming of excitement inside. I know from experience how this could end up. They did a great job with just a few mistakes but they got right back in and finished strong. I watched as the staff spoke to each girl and then walked behind them and gave them a ribbon. "Ok ladies, look at your ribbons on the count 3, 2, 1! BLUE RIBBONS! The girls exploded with happiness hugging, jumping, and screaming. I was overcome with emotion watching them and knowing the moment they just created. They attacked me with hugs and stared at their blue ribbons nonstop. Good job ladies! At the end they UDA staff gave four "Pin It Forward" awards to dancers that have stood out in class, warm ups, and technique class. Our Elizabeth was awarded this special award.
Dinner break was next followed by getting ready for 'Turnt Up" night. We dressed as planets and a sun. The girls looked incredible and got lots of compliments from the team. It is like they are the little sisters on the group and they love the attention they are getting from the high school girls! We played games, had relays, and dance offs. TBS came in 1st place for the scavenger hunt. The girls got a glimpse of my competitive side. I did not raise two D-1 athletes (Jacob #77 Elon football and Will #90 Richmond football) by not being competitive! All American's were announced next and I could not believe me ears when I heard them announce three of our TBS dancers!!! Patterson, Victoria, and Elizabeth were all awarded "All American Dancers" and invited to perform in the Thanksgiving Day Parade in Disney World this November!
Right now our dancers are rehearsing nonstop. They will be evaluated on their A and B routines tomorrow. They do not know it but the UDA staff will be by in just a little bit to squirt them with water guns. I cannot wait and hope to have my phone ready for pictures. We will have our team awards that I give out soon. I will also have them pack up their room tonight before they go to bed and they will also have time in the morning to finish. My awards tonight will be:
Ashleigh: Rise Award (she is rising to the top with her ability and personality) Sass Award
Amada: Shine (starting to shine with her smile and laugh) Varsity UDA Rep Award (she is rocking her cute UDA outfit)
Abigale: Full Out (no matter what she is always giving 100%) Attitude (great attitude especially during tough situations)
Victoria: Growth Award (soaks up technique class) Honey Honey (girls are drawn to her because she is so much fun to be around)
Patterson: Responsibility (I can always count on her to be on time, do the right thing, and never complains)
Elizabeth: Hip Hop Queen (we did not know who we were watching during reviews as she started to "feel her hip hop".
Hannah: Best UDA Memory (during AA) Push Through Award (struggled during AA rehearsals but pushed through and finally got it in practice without getting discouraged)
Liza: Triple turn (her pirouettes are improving and she is landing a double every time) Leadership (always encourages, always helping, and quick thinking) Coaches Award (overall positive, dedicated, thoughtful of others, and always looks to the bright side)
No phone calls tonight parents since they have not even asked. They are practicing nonstop and we will take a short break for our meeting. We will then have a 10 minute talent show, pack up, then showers. I will go to sleep with happy thoughts in my brain of your daughters. They have exceeded my expectations in so many ways. They remind me why I am still doing this. I love watching them have fun, grow as a dancer and experience new things. Our bond is strong and it will only flow into the halls of TBS as they continue to encourage each other. Think of them in the morning as they compete for themselves and not as a team. See you all tomorrow afternoon. I will send you updates and times but expect to be at TBS between 3:30-4:30. They will probably sleep from the time they get home until the next morning. Thank you for trusting me with your daughter, it has truly been an honor.
Love,
Miss Kim