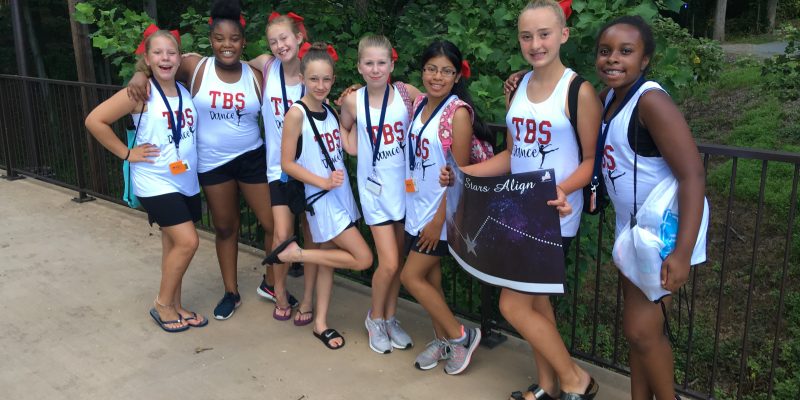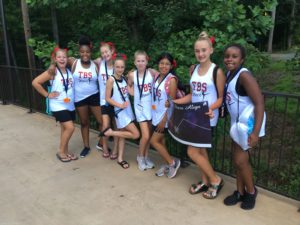 Day 2 of TBS at UDA at UVA
Good Morning, good morning, I'd like to say to you good morning, good morning to you! (Hug)
At 6:15am I entered each girl's room singing the good morning song. I could not believe how easy the girls got up, it seriously was the quickest ever. Amada and Ashleigh were surprisingly the ones that I had to sing it more than 3 times. Liza sat up and gave me the biggest hug. I love a smile in the morning. All girls exited their rooms at 7:00 with bright eyes, new outfits, and hair adorned with red bows below their buns. We walked to eat breakfast with a couple of photo breaks. Pancakes, eggs, oatmeal, fruit, and bagels filled their plates. I was proud not to see any soft drinks for breakfast! I sat and sipped my beloved coffee watching the dancers wake up with breakfast and friends.
We arrived at the gym at 7:45 to start learning our "All American" dance. 6 dancers have the opportunity to audition for "All American". If they make it they earn a spot in the All American Thanksgiving Parade in Philadelphia. After learning All American the dancers started warm up with all the other schools. There are 12 teams attending camp this weekend. All of them are from Virginia except us. Interestingly some traveled just as far as we did to attend camp.
While the girls reviewed their Performance routine I went to a coaches meeting. In our meeting we discussed our schedule, our teams, and camp. The UDA staff gives out a coach's leadership award and I was thrilled to hear them call my name. Thank you UDA for that pat on the back….it is makes this "older" coach feel proud and honored to be recognized by you! I attended another class that talked about the types of personalities on a team from the resistant and reluctant dancer to the committed and compelled dancer. We discussed ways to motivate our dancers depending on what category they fell under.
The dancers learned two additional routines today, their A routine and their B routines. I allowed the girls to pick what dance they wanted to learn. I was proud that everyone picked what they should have picked. They are learning their strengths and their weaknesses. They are encouraging each other and was complimented by the staff for their positivity. In addition to learning All American, A and B routines the dancers had a public speaking class. They also has a technique class on turns, leaps, lifts, and hip hop tricks. I could not believe Hannah and Liza trying some really hard tricks…I had to run over and join them! Ashleigh got lifted a lot by Abigale, Patterson, and Victoria. You can be sure they will be in some of our basketball routines this year. The girls got to go shopping at the UDA campstore today. They bought some really cute items to show their "UDA Camp" pride this school year. The coaches got to have a fashion show to advertise these items.
Tonight the coaches surprise our dancers with a routine to "In my Feelings". The staff had all the girls close their eyes and visualize their evaluations (while the coaches quietly got into places) then asked them to turn around….they went wild! My cool factor might have been elevated a little bit. Needless to say I received a lot of TBS Dancer high-fives! Thank you sweet girls.
At this moment the girls are practicing and counting loudly. Tomorrow they have evaluations on their performance routine. They have worked so hard and I know it will go well. They are screaming after each practice which is a good sign. It has been a long day for them and they still want to practice. I have not heard one complaint… let me type that again… no complaints! Our goal is to get to bed by 11:00 tonight! I will go ahead and tell you what sun-rays will be passed out even though it has not happened.
Liza: Choreography Queen (she picks up choreography so fast)
Hannah: Kick Up Queen (hard trick she worked so hard to get)
Victoria & Abigale: Independence (they both learned a dance without any other team members with them…they did it alone)
Elizabeth: Organized (always prepared for each activity)
Ashleigh: Fierce (not afraid to be lifted and her ending pose face is priceless)
Patterson & Amada: Cupcake (vital part of our "team mix"…they hold us together by not trying to perform better than the girl beside them but by being the best they can be…a team (our mix) would not "rise" without them.
Patterson: Smile award: No matter what she always keeps that beautiful smile!
I apologize for not many phone calls but just know they are truly working and not wanting to stop. They use my phone for the music to rehearse. I am learning so much about them and so thankful that I get this chance to be their teacher/coach. They encourage each other and cheer each other on. I see girls notice when someone might need a little extra boost which is so inspiring and refreshing! Here's to another incredible day at UDA!
Love,
Miss Kim