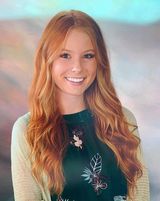 Sommer Laws of Burlington, NC, began dancing at the age of two years old at Center of Performing Arts in Graham, NC. Her very first ballet and tap class was taught by our very own Kim Black.
At the age of six, she was selected to be apart of the competition team. After years of competing in several different genres of dance including jazz, tap, acrobatics, lyrical, contemporary and hip hop she began dancing at Dancers Workshop in Sanford, NC.
Sommer competed in the Carolina Dance Masters competition receiving second runner up for teen miss dance of NC. She also received Miss Congeniality five years in a row.
After taking several master classes with amazing teachers, for example Noel Marsh who has studied with Mia Michaels and was on the show SYTYCD, she has became a very diverse and unique choreographer and young lady.
Sommer has an outlook on life and dance in a very positive and different way and loves to share that with her students. She prides herself on making personal friendships and giving amazing advice to her students that mean the world to her.