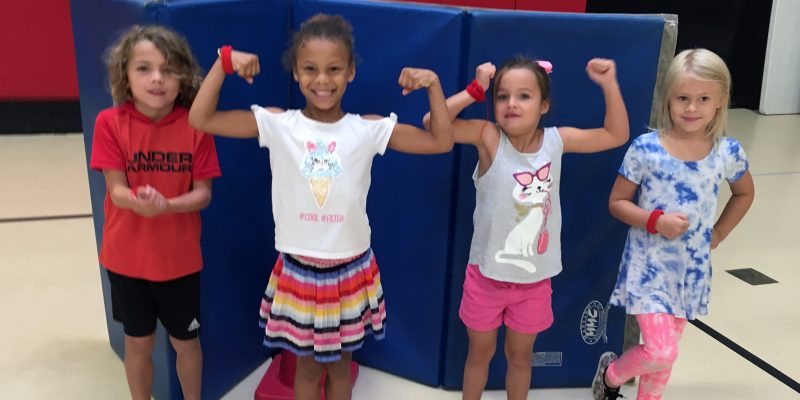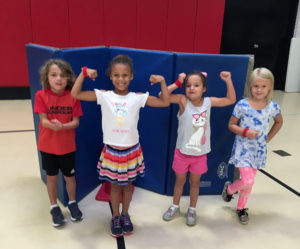 Yo ho ho! Ahoy matey! Shiver me timbers, are you ready to pillage? Heave ho as you hunt for your treasure and return in to your Jolly Roger.
Skill Set: Memory & Association skills, spatial awareness, teamwork, sequencing skills, and gross motor skills.
Items Needed:
4 sets of 10-15 colored items (blue, red, green, yellow)
4 large cones (blue, red, green, yellow) and 4 folding mats (to create the ship)
4 hoola hoops (blue, red, green, yellow) to store treasure
Music (I like to use various pirate themed songs depending on the age group playing)
Colored wristbands (for the youngest players and for level 3)
Pre-game Prep:
Build your boats by standing the folding mats on their side and put a colored cone in front of it. Place a colored hoola hoop behind the mat.
Place all the same colored treasure in the matching boat.
How to play:
Divide the class into teams. For the younger classes I will put a colored band on their wrist to remind them what color team they are on and what color treasure they are supposed to take.
Each team stands in front of their ship around the cone. I explain that they need to "mix up" their treasure. This is important to show them all of their color in their ship so they can visualize the end result. I make it clear that is not starting yet, we are just putting our treasure "mixing it up" in other boats. I then say "report to your ship". I make sure there is no matching colors in their ship so we can start. I give my best Pirate pep talk and start the music and blow my whistle.
Once music starts the game begins.
Level 1: The pirates simply go run to the other boats and retrieve one piece of treasure and put it in their boat then repeat until all of their treasure is in their boat. Clearly state that they can only take one piece at a time so they get to run a lot! Once they have all of their treasure (tell them how many pieces they are looking for) they are to sit around their cone at the front of their boat.
Level 2: Tag! One (or more) members stay back at the boat to guard the treasure while the other team members run and get treasure. Note, you can change out anytime you want to give runners a rest. While guarding the boat you can tag someone taking treasure from your boat. If you tag them (they have to have a piece of their treasure in their hand) they have to stand in your boat. The prisoner can be rescued by being tapped by one of their team members. The prisoner has to run back to their boat before returning to try and take treasure or they can go to another boat. Again, once a team has all of their treasure they are to sit around their cone at the front of their boat.
Level 3: Switch it up! This is pretty hard and I play it with my 2nd and 3rd graders. I keep them on their same teams but I place a different color on their wrist. When the game starts (1st whistle blow) they play like normal. When I blow my whistle the 2nd time they look at their wrist and suddenly have to work for the color on their wrist. When I blow the 3rd time they switch back to normal. They do not know if I will blow it a 3rd time (I do it differently every time) so they will not sabotage the color on their wrist by not working hard.
My variations:
For my young 3's it is hard for them to understand "mixing it up" so I tell them we are throwing the treasure into the ocean. They bring it all to the center of the room and report back to their ship to start.
Lessons learned in this game:
"Teamwork" The students understand that they are a part of a team. With the youngest students you will see the children helping their teammates by telling them what color to get. With the older you can see teammates strategizing.
"Integrity" Students have to be honest and only take one piece of treasure at a time. It is a great opportunity for a lesson on honesty and doing the right thing even when you think others are not watching.
"Sportsmanship" In level 2 if a student gets tagged they have to return the treasure and go to jail (stand in the boat). This is quickly overshadowed by asking for help from another teammate. Yeah, nobody likes to get tagged but it feels great to be helped.
This is such a fun game and can be played by all ages. This games works gross motor skills, cognitive skills, speed and agility.
Have Fun!
Miss Kim in the Gym