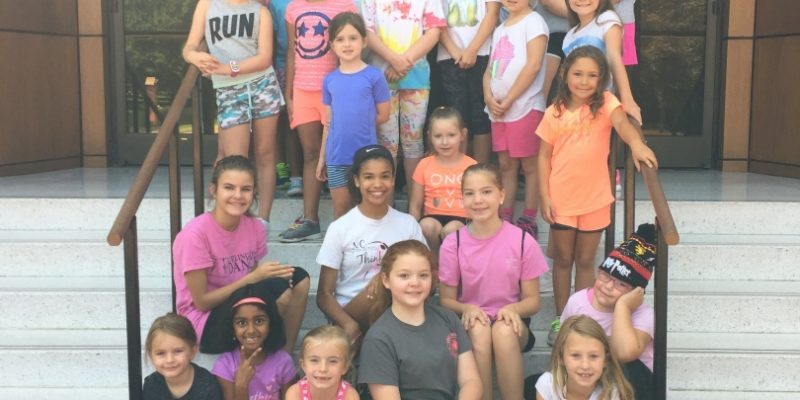 Day 2 was a huge success! Once all the campers arrived we headed outside while the sun was behind the clouds and a cool breeze was blowing. After playing on the playground, checking on our tomato plants, and playing a great game of baseball we headed inside. Mr. Tony arrived and we were ready to start our adventure to Elon. I was so excited seeing the kid's faces as they boarded the bus to Elon. After checking to make sure all kids were buckled in we made our way.
Linda Sabo welcomed us outside of McCrary Theatre. She introduced herself and we started our tour. We saw three dance studios, the dressing rooms, the green room, and the black box theatre. We were able to go backstage at McCrary and walk on the stage. The dancers really seemed to enjoy the tour. Mrs. Sabo walked us to Mosley Center while holding hands with some of our dancers. She was so kind to give us her time and we are so thankful. Mrs. Sabo showed us the perfect spot to eat our lunch complete with the coolest bean bag chairs. After lunch we had a nice walk to the pond and fed the ducks. The dancers squealed as the ducks marched toward them for their bread! After all the bread was gone we went and looked at the mighty Rising Phoenix!
Mr. Tony picked us up right on time at 1:00. I overheard some of the sweetest conversations between two new friends. I got to thinking on the drive back how hard it must be for some girls to walk into a building they have never been to and be around children they have never met. Then to see two girls who have never met become fast friends. That is a great feeling.
The rest of our day included working on our dances, skills such as leaps, pirouette turns, tour jetes, and kicks. We ended our day playing Octopus and parachute. Thank you again to my Big Sister helpers, you were wonderful today especially at Elon. Thank you to Linda Sabo for the Elon Dance Department tour.
See you tomorrow dancers!
Miss Kim