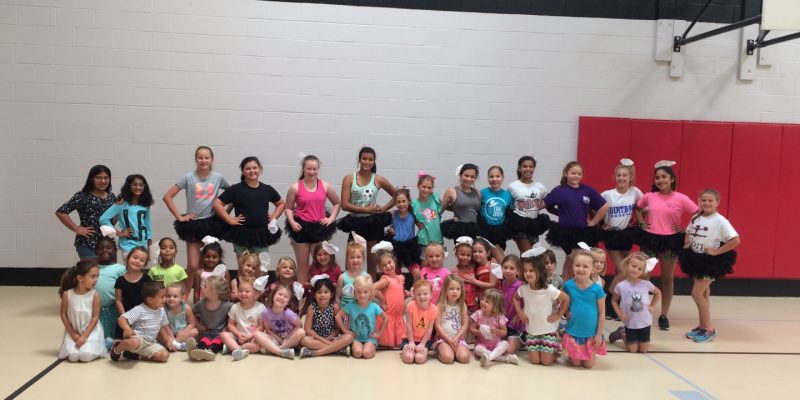 Princess Camp at TBS-Day 2

Day two started out much quicker since everything was familiar. We had a great time reading the Moana story paired with music from the movie. Some might compare me to the crazy grandma in the movie and I consider that a compliment! The Big Sisters held hands with their little ones and I noticed Harper and Jasmine hugging. Harper had written a note for her big sister and it meant so much to Jasmine. Thank you Harper!
We headed to the gym for dance class which consisted of some of our fun creative movement songs. The children sang loudly and danced fiercely. They remembered their spots from yesterday and got right on them without help from their big sisters. We learned first position and eight ballet terms. We will add more during the week so they will be leaving speaking French! We gathered in a circle and learned a Moana dance to How Far I'll Go. In this stance the children learned how to do a jeté and got their special chance to do it across the floor.
We headed back to the room with their big sisters for a much-needed snack. Some dancers started their special jellyfish craft. I explained to the children, that like Moana, I entered the ocean and found the shells on the bottom of ocean in Florida. They had all sorts of questions for me. Next everyone colored a beautiful Moana picture that they got to keep for themselves.
We got to go on a walk through the school that took us to the gym where we entered Miss Kim's land. There the children had to listen for a song to know where to run to without being tagged. There were lots of squeals and laughs as they ran as hard as they could.
Lunch followed next along with a little section of the movie Moana. We went outside to play and then came back in for a final parachute play. It was wonderful day filled with lots of dancing, games, and learning.
Wednesday is Beauty and The Beast day which means two dances will be learned. It's one of my favorite days and I think the dancers will enjoy it as well. See you soon!
Love, Miss Kim